UNFPA: Delivering a world where every pregnancy is wanted,
every childbirth is safe and every young person's potential fulfilled.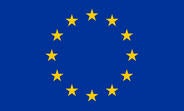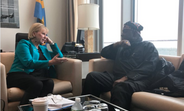 3 February 2017
Sweden increases contribution to UNFPA
Sweden is increasing its contribution to UNFPA, the United Nations Population Fund, from 504 million kronor in 2016 to 515 million kronor in 2017, according to the Minister of Foreign Affairs and Deputy Prime Minister, Margot Wallström. 
The 2016 and 2017 funds combined will enable UNFPA to: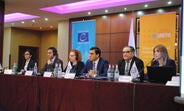 31 January 2017
International conference on preventing VAW held in Yerevan
On 31 January 2017, an international conference on preventing violence against women took place in Yerevan. The event was organized jointly by the Council of Europe, the Human Rights Defender of Armenia and the UNFPA, the United Nations Population Fund Armenia.
A strong man will not abuse a woman"
The study was conducted within the framework of the UNFPA program in Armenia in 2015-...
The current publication includes materials from 2013 conference "Demographic...