Ensuring rights and choices for all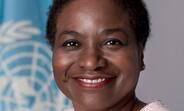 19 August 2020
Statement by UNFPA Executive Director Dr. Natalia Kanem on World Humanitarian Day
Saving lives has never been more harrowing Last year saw attacks against aid workers surpass all previous records, with hundreds of humanitarian workers assaulted, injured, kidnapped or killed. This year, threats to health-care personnel are escalating amid the COVID-19 pandemic. Not only do health workers face exposure to the
19 August 2020
Our Heroes of the Republican Maternity Ward
The first pregnant woman with suspicion of the virus was admitted to the COVID-19 Department of the Republican Institute of Reproductive Health, Perinatology, Obstetrics and Gynecology on March 28. Since that day, the Department has provided services to more than 200 pregnant women from all around Armenia. The employees say,
12 August 2020
UNFPA Executive Director Statement on the International Youth Day 2020
Youth leading the way in COVID-19 solutions Statement by UNFPA Executive Director Dr. Natalia Kanem International Youth Day 12 August 2020  As we mark International Youth Day in the midst of a global pandemic, we witness how young people are taking action to solve problems in their communities. Young people have been

Rapid Assessment on Government Response to Domestic Violence During COVID-19 Pandemic....

This document was produced by ICHD with the financial assistance of the European Union...