UNFPA: Delivering a world where every pregnancy is wanted,
every childbirth is safe and every young person's potential fulfilled.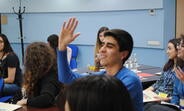 18 April 2017
UNFPA Armenia is raising awareness of youth in SDGs
UNFPA Armenia together with Y-peer Armenia network hosted two-day awareness raising sessions for young people on Sustainable Development Goals, vital part of the new global development agenda to end poverty, protect the planet, and ensure prosperity for all. Around twenty young people from high schools, colleges, and leading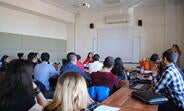 6 April 2017
Lecture on Gender Equality for AUA Students
At the request of American University of Armenia (AUA), Ms. Tsovinar Harutyunyan, UNFPA Armenia Program Analyst, delivered a lecture to AUA students about gender equality, gender based violence and prenatal sex selection. UNFPA Armenia received the invitation from Hilda Grigorian, MBA, PhD, Adjunct Assistant Professor at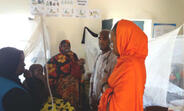 23 February 2017
Press conference: updates on prenatal sex selection in Armenia
The problem of prenatal sex selection in Armenia remains an area of strong media interest. On February 22, 2017, Armenpress, a leading Armenian media agency, invited Mr. Garik Hayrapetyan, UNFPA Armenia Assistant Representative, and Ms. Gayane Avagyan, Head of Maternal and Reproductive health Department of RA Ministry of Health
A strong man will not abuse a woman"
The study was conducted within the framework of the UNFPA program in Armenia in 2015-2016...
The current publication includes materials from 2013 conference "Demographic Challenges...