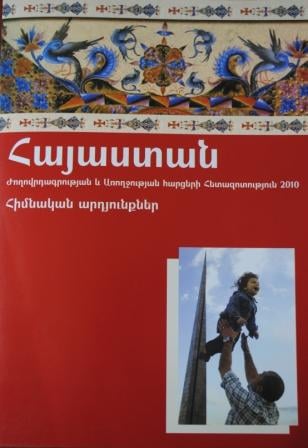 On April 30, the National Statistical Service and the Ministry of Health of Armenia presented the main findings of the 2010 Armenia Demographic and Health Survey (ADHS). Representatives of the Armenian Government, international organizations, healthcare organizations and NGOs, as well as the media attended the event.
The ADHS is a nation-wide household survey that is conducted once in five years starting from 2000. The purpose of the study is to provide important demographic and health data on Armenia's population, which can be used, inter alia, to modify existing demographic and healthcare policies and create new ones.
The 2010 ADHS covered fertility and family planning issues, maternal health, child health and nutrition, childhood mortality, health care service utilization, as well as knowledge and behavior regarding HIV/AIDS and other sexually transmitted infections (STIs). It has included over 7000 households throughout Armenia, where 5,922 women and 1,584 men of ages 15-49 were interviewed.
Some key findings:
Fertility: as in 2000 ADHS and 2005 ADHS, according to 2010 ADHS the total fertility rate in Armenia is 1.7.
Abortions: Among all pregnancies that occurred in the three years preceding the 2010 ADHS, 29 per cent ended in induced abortion, and the total abortion rate expressed per woman was 0.8. According to 2005 ADHS these indicators constituted 45 per cent and 1.8 respectively.
Family planning: 27 per cent of married women used modern contraception methods, which was higher than the 2005 ADHS indicator by 7 percentage points.
UNFPA, United Nations Population Fund, along with USAID, the main funding source, as well as UNICEF, and UNAIDS, supported implementation of ADHS 2010. ICF International provided technical assistance through MEASURE DHS, a USAID-funded project that provides support and technical assistance in the implementation of population and health surveys worldwide.